Arrangement von Donnerstag 29. Juni bis Sonntag 2. Juli 2023, 3 Nächte

Salome

- R. Strauss
Mit der verstörenden Geschichte der lustmordenden "Salome" gelang Richard Strauss (1864-1949) im Jahr 1905 der Durchbruch als Opernkomponist. Mit zum Teil aufgehobener Tonalität, Leitmotivtechnik und einem über 100 Mann starkem Orchester schuf Strauss, basierend auf Oscar Wildes gleichnamigem Schauspiel, ein einaktiges Musikdrama voller avantgardistischer Züge.Es handelt von der bildschönen Prinzessin Salome, welche im Palast ihres perfiden Stiefvaters Herodes lebt. Dieser würde nur zu gerne den Platz an seiner Seite statt durch seine Frau und Salomes Mutter, Herodias, von der jungen Salome besetzt sehen. Salome entzieht sich jedoch und wird auf den im Hofverlies eingesperrten Propheten Jochanaan aufmerksam. Um mit ihm sprechen zu können, verführt Salome kurzerhand den Wache habenden Hauptmann. Doch Jochanaan erwidert Salomes Faszination nicht. Im Gegenteil, er verstößt sie, und zieht sein Verlies ihrer Gegenwart vor, während er weitere Prophezeiungen verkündet, die Herodes beunruhigen. Zur Ablenkung verlangt Herodes von Salome einen erotischen Schleiertanz. Erst als Herodes Salome alles verspricht, was sie begehrt, willigt sie ein. Als Salome nach dem Tanz den Kopf des Jochanaan auf einem Silbertablett fordert, ist Herodes bestürzt, doch er sieht sich durch sein Versprechen gebunden. Zutiefst entsetzt, als sich Salome daraufhin lustvoll an Joachanaans Leiche vergeht, befiehlt er seinen Soldaten voller Abscheu, Salome zu töten.
Salome

♪
- R. Strauss
, am 30.
François-Xavier Roth - Hans Neuenfels
Elena Stikhina

Die Sopranistin Elena Stikhina (*1986) zählt zu den herausragenden Nachwuchskünstlerinnen unserer Zeit und hat in ihrem Fach bereits international für Furore gesorgt: Nachdem sie den renommierten Operalia-Gesangswettbewerb für sich entscheiden konnte – eine Auszeichnung, die in der Vergangenheit bereits das Karriere-Sprungbrett für viele heute etablierte Künstler darstellte, folgten bald darauf Auftritte an der Opéra de Paris, der Deutschen Oper Berlin sowie der Staatsoper Unter den Linden und der Dresdner Semperoper. In der Spielzeit 2018/19 konnte Stikhina erfolgreich in den USA debütieren, sowohl an der New Yorker Metropolitan Opera, an der sie die Titelpartie in Puccinis "Suor Angelica" gab, sowie als "Tosca" an der Boston Lyric Opera. Im Sommer 2019 gab die gebürtige Russin – als Vertretung für Sonya Yoncheva – mit der Partie der Medee ihre vielbeachtete Premiere bei den Salzburger Festspielen. Spätestens damit ist Stikhina dabei, sich von einer herausragenden Nachwuchskünstlerin zu einem der zukünftigen großen Sterne am Musikhimmel zu etablieren.
Elena Stikhina

♪
, Marina Prudenskaja, Nikolai Schukoff, Lauri Vasar
Staatsoper Unter den Linden

Don Carlo

- G. Verdi
Giuseppe Verdis (1813-1901) große und abendfüllende Oper "Don Carlos" basiert auf Friedrich Schillers Drama "Don Karlos, Infant von Spanien". Das französische Original von 1867 wurde in Paris uraufgeführt, gehört zur Gattung der Grand Opéra, war Verdis drittes Auftragswerk für die Pariser Oper und hat fünf Akte; eine zweite, kürzere Fassung kam erst 17 Jahre später im Teatro alla Scala in Mailand zur Aufführung. Im Gegensatz zur ersten Fassung enthält diese vier Akte und hat statt eines französischen ein italienisches Libretto. So erklären sich auch die beiden verschiedenen Schreibweisen des Werkes: "Don Carlos" / "Don Carlo".Mittlerweile ist bekannt, dass sieben unterschiedliche Versionen der Oper existieren. Nach massiver Kritik sah sich der Komponist wiederholt gezwungen, Änderungen und Kürzungen an seinem Werk vorzunehmen, da die erste Fassung mit fast fünf Stunden Spieldauer sogar dem Pariser Publikum zu langatmig war – einem gebildeten und musikliebendem Publikum, das von der groß und episch angelegten Grand Opéra zeitliche Längen durchaus gewohnt war. Nachdem bis Ende des 20. Jahrhunderts die zweite Fassung favorisiert worden war, tendieren die Theater heute zur ersten, längeren Fassung, da in ihr die Handlungsstränge und Beweggründe der Figuren wesentlich besser und schlüssiger dargestellt werden können.
Don Carlo

♪
- G. Verdi
, am 1.
Daniel Barenboim

Maestro und Pianist Daniel Barenboim ist seit seiner Kindheit mit der Klassischen Musik tief verbunden. Geboren 1942 in Buenos Aires, erhielt er ausschließlich von seinen Eltern Klavierunterricht.Barenboim interessierte sich schon als Kind für das Dirigieren. Mit gerade einmal elf Jahren nahm er in Salzburg an Dirigierklassen teil, weitere Studien folgten in Paris. Zu Beginn seiner Karriere war Barenboim zunächst vornehmlich als Konzertpianist tätig. 1969 gab Barenboim mit den Berliner Philharmonikern sein Dirigat-Debut und widmete sich im Anschluss daran verstärkt dem Dirigieren. Mit dem Orchestre de Paris, den Wiener, Münchner und den Berliner Philharmonikern, dem Chicago Symphony Orchestra, der Staatskapelle Berlin, der Staatsoper Unter den Linden, dem Teatro alla Scala und vielen anderen pflegt Barenboim eine lange erfolgreiche Zusammenarbeit als (Chef-)Dirigent, ebenso mit den Bayreuther Festspielen, zu denen er von 1981 bis 1999 jeden Sommer wiederkehrte.Zusammen mit Edward Said gründete Daniel Barenboim 1999 das West-Eastern Divan Orchestra, das jeden Sommer Musiker aus dem Nahen und Mittleren Osten vereint und weltweit gastiert. Gelebte Völkerverständigung.Für sein Lebenswerk wurde Daniel Barenboim vielfach ausgezeichnet, darunter mit dem Titel des Honorary Knight Commander of the Most Excellent Order of the British Empire (KBE), dem Bundesverdienstkreuz sowie dem ECHO Klassik Lifetime Achievement Award.
Daniel Barenboim

♪
- Philipp Himmelmann
Aleksandra Kurzak, Eve-Maud Hubeaux, Stefan Pop, George Petean,
René Pape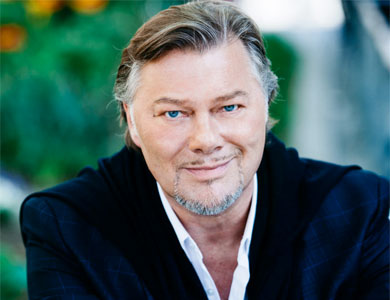 Ein Bass durch und durch - der gebürtige Dresdner René Pape debütierte bereits während seines Gesangsstudiums an der Berliner Staatsoper Unter den Linden, woraufhin er sogleich ein festes Engagement erhielt. Seit 1991 tritt Pape bei den Salzburger Festspielen auf, 1994 sang er erstmals bei den Bayreuther Festspielen in der Rolle des Fasolt (Das Rheingold) – zahlreiche Wagner-Rollen folgten. Weitere Engagements führten den 1964 geborenen Bass in alle großen Opernhäuser der Welt, darunter das Royal Opera House, die Metropolitan Opera, die Opera Nationale de Paris sowie die Wiener Staatsoper, Semperoper, Bayerische Staatsoper oder die Mailänder Scala. Neben seiner Opernpräsenz begeistert Pape regelmäßig in von Kritikern wie Publikum gleichermaßen hochgelobten Solisten- und Konzertabenden, in dessen Rahmen er mit Spitzenorchestern unter gefeierten Dirigenten wie Daniel Barenboim, Daniele Gatti, Valery Gergiev, Zubin Mehta, Riccardo Muti, Yannick Nézet-Séguin und Kirill Petrenko auftritt.Seine CD-Einspielungen wurden mehrfach ausgezeichnet, darunter mit zwei Grammy Awards sowie dem Echo Klassik. Für seine herausragenden künstlerischen Leistungen wurden Pape unter anderem der Österreichische Musiktheaterpreis (2017) sowie zuletzt der Europäische Kulturpreis Taurus (2019) verliehen.
René Pape

♪
, Andrea Mastroni
Staatsoper Unter den Linden